advertisement
advertisement
advertisement
Et cetera :: AmeriCorps NCCC Maple 5 Restoring Riverbanks and Trails

·

June 9th, 2019
Photos (2) View All

AmeriCorps NCCC member Kailie planting a tree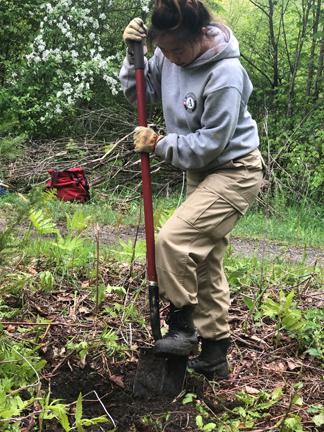 By Maple 5
AmeriCorps
NCCC Team Maple 5 has been in Montpelier, VT since May 8th where they
have being working with the city's Park and Trees Department for their
round 2 project.
Their service work involves removing non-native species to make room to
plant native trees and rebuilding trails to reduce sediment erosion
along the riverbanks. Their work benefits the community by making the
parks look more natural and preserving the current
riparian ecosystem.
In
their first two weeks, the team of nine planted 302 trees all over the
city in North Branch River Park, along the Siboinebi bike path, and the
Winooski River Basin.
To keep the plants healthy until they can be planted, the team and
their project sponsor planted the trees in cloth bags at a local plant
nursery so they can be easily removed at a later date. Last week Maple 5
worked with the Cross Vermont Trail Association
to repair a trail that was damaged in the 2011 floods, they pulled 12
100-plus pound granite rocks up a steep incline to help prepare to build
a bridge across a creek. This week, the team is continuing their work
with the Parks and Trees Department.
Kailie
Wulf, of Wenatchee, Washington, states; "I feel that I'm learning a
great deal about how much work actually goes into preserving natural
ecosystems, and I have
a greater appreciation for all the effort that goes into it. I worked
with a class of eighth graders planting trees along the riverbanks,
their enthusiasm and desire to preserve their parks was really
inspiring. I consider myself an outdoorsy person, and the
nature of the work we're doing is really physically demanding, but also
leaves me feeling accomplished at the end of the day."
advertisement
advertisement
advertisement
advertisement
advertisement
advertisement