Sports :: Ortner, Swenson advance to Districts for Viking matmen

·

February 9th, 2020
Photos (2) View All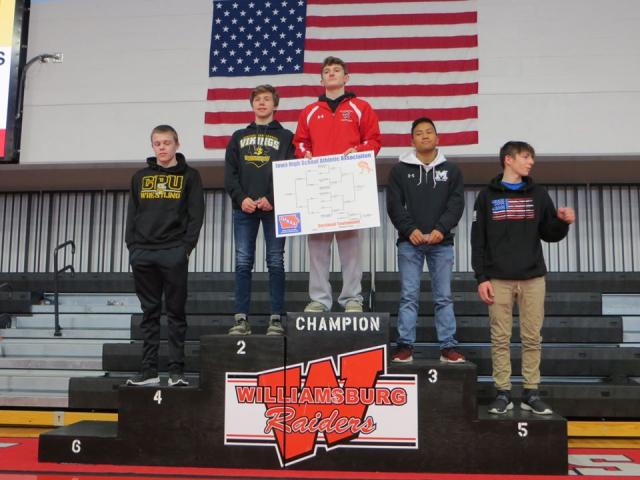 Coach Brian Sheston's Vinton-Shellsburg Viking wrestlers have a pair moving on to Districts after Saturday's Sectional tournament at Williamsburg. 
Sophomore Brady Ortner (39-6 on the season) became just the 12th Viking sophomore to win a Sectional title as he took the 126-pound crown. He'll be joined next Saturday at the District meet at Center Point-Urbana by teammate Damon Swenson (25-11), who captured the runner-up spot at 120.
After a first round bye, Ortner opened his title run with a hard-fought 6-4 decision over Williamsburg's Chase Malloy, then capped off the day with a 2-0 victory over Benton's Wyatt Bieschke to take the title.
Swenson got a first round bye then manhandled Mount Vernon's Jaruthat Dervo, 16-5 in the semis. He fell to 10th-ranked Kayden Gryp of Williamsburg, but Swenson got his ticket to Districts punched when Drevo won his consolation match.
The Vikings also picked a valuable third-place finisher as junior 138-pounder Jimmy Mull scored a pair of falls on his way to the bronze medal.In addition, junior 145-pounder Bryce Radeke, freshman 152-pounder Curtis Erickson, sophomore 195-pounder Curtis Rouse and senior 220-pounder Chris King all finished fourth.
Now it's on to CP-U next Saturday; Swenson will face ninth-ranked Blake Engel (29-5) of West Delaware in the first round, while Gryp (44-3) faces Monticello's Owen Ray (35-10).
Ortner will open against Ethan Tallman (25-11) of Monticello as Bieschke (35-5) faces off with West Delaware's Evan Woods (25-7).
The top two placewinners in each weight will advance to the Class 2A State wrestling tournament which opens Thursday, February 20 at Wells Fargo Arena in Des Moines.
advertisement
advertisement
advertisement
advertisement