Sports :: VS Girls Golf: South Tama

·

May 12th, 2019
Photos (2) View All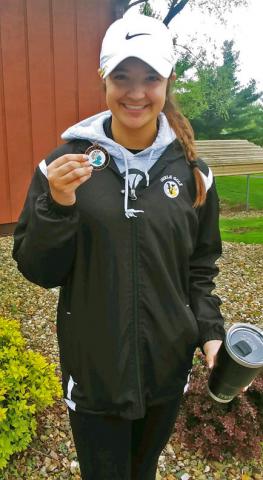 May 11, 2019

South Tama Invitational
Tama Golf and Country Club, par 70
Weather: overcast with some rain, low 50s
Team results:
Grinnell 339
Pella 383
V-S 388 (won on 5th score)
Nevada 388
South Tama 408
Independence 408
Benton Com. 415
Medalist:
Bella A-Larsen, Grinnell 78 (won by card back)
Madison Elliott, Grinnell 78
VS Individuals:
Lillie Lamont 47,44= 91
Carli Lang 48,47=95
Christina Harrelson 50,50=100
Abbye Hendryx 56,46=102
Lauren Murray 61,50=111
Aly Smith 60,58=118
Our team had a strong showing today in not the best of weather conditions. We had several with 18 hole personal bests (excluding Airport National's par 63 course): Carli Lang, Christina Harrelson, Abbye Hendryx, Aly Smith. This is a nine hole course so the tourney was done by playing it twice. Lillie Lamont earned a 9th place medal and had low putts for us. I was pleased with the 3rd place finish today. Because we tied with Nevada, to resolve it, each team's 5th score is used. Lauren Murray was the deciding factor; another instance to show every person counts!
We return there Monday for a triangular make up meet that was postponed early in the season. It will be interesting to see if we can best today's scores. This will be the final round of regular season play. Next Monday we will play in the 12 team Regional hosted by Waverly for the opportunity to qualify for State. Otter Creek in Ankeny will host the 3A two day tournament.
advertisement
advertisement
advertisement
advertisement