Sports :: Broc Shaw earns first team honors as Vikings finish 8th at WaMaC

·

May 7th, 2019
Photos (2) View All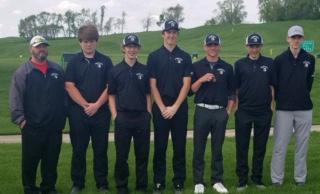 The rain stayed away but the winds were strong at the conference supermeet held at Saddleback Golf Course in Solon Monday. Broc Shaw carded a 78 to earn First-Team All-Conference honors. Brayden Almquist came in with a solid round of 83. Seth Patterson carded a 90 while Sam Moen finished the scoring with 92.
Team Scores: 1st West Delaware 306, 2nd Marion 311, 3rd DeWitt 316, 4th Williamsburg 316, 5th Independence 323, 6th Benton 329, 7th Solon 332, 8th Vinton-Shellsburg 343, 9th Center Point-Urbana 346, 10th Mount Vernon 350, 11th Clear Creek-Amana 353, 12th Maquoketa 358, 13th South Tama 361, 14th Beckman 367
The Vikings finished 4th at the South Tama invitational Saturday in preparation for the conference and sectional tournaments this week. Broc Shaw and Brayden Almquist both medaled placing 5th and 8th respectfully to lead the Vikings. Sam Moen turned in an 89 with Seth Patterson finishing the scoring with a 90. Jace Rake and Ayden Bearbower also played in the invitational. The Vikings begin sectional competition at Springbrook Country Club on Friday.
advertisement
advertisement
advertisement
advertisement
advertisement