News :: Vinton-Shellsburg Students Receive National Recognition for their Kindness

·

April 1st, 2021
Photos (2) View All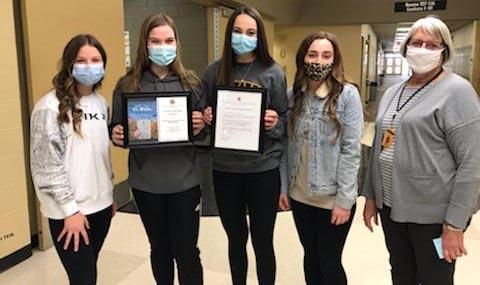 In a letter addressed to the Vinton Shellsburg School Senate, the group was recognized in part by the local VFW (Veterans of Foreign War) Smith-Geater Auxiliary Post #8884 as well as the National President of the VFW for their work on behalf of veterans.
"Dear Vinton Shellsburg High School Student Senate:
On behalf of nearly a half million members of the Veterans of Foreign Wars of the United States Auxiliary, I want to thank you for your efforts to support our veterans and their families.
As our military service members return from fighting terrorism around the world, it is important for them to know that America has not forgotten them or their families. We commend the youth of our country and members of the VFW Auxiliary who are Honoring our Mission to Serve Veterans and continue to volunteer their time and talent to bring joy to America's heroes.
In recent overseas conflicts, as in all wars, many have made the ultimate sacrifice fighting to bring peace and freedom to foreign lands. We ask you to remember their sacrifice and to help us ensure that all Americans understand the precious cost of freedom.
Thank You and God Bless America!
Sandi Onstwedder,National President"
The VFW (Veterans of Foreign War) Smith-Geater Auxiliary Post #8884 of Vinton, applied for a National VFW Auxiliary Level Award recommending the Vinton-Shellsburg High School Senate for recognition on a project helping out area veterans. Jeanette Henry the Auxiliary President wasn't very confident that our little town would win the award, she said, but she felt that it was worth a try. Henry said that she submitted an application for the award, and was pleasantly surprised when she received the packet in the mail which contained the Youth Activities Award, a National Award.
Around Veteran's Day, the students of Vinton-Shellsburg were prompted by the High School Senate to contribute supplies for Veterans who were hospitalized in Iowa City at the VA Hospital. They set out boxes and prepared lists of suggested items for students to bring to the school.
Many of the veterans Henry said were homeless vets or just needed a little extra help. The high school students were able to donate enough supplies to fill 5 large boxes. The donations included things like long johns, hats, gloves, shampoo, lotions, deodorant, combs, brushes, coffee and other personal care supplies. Henry said when she and her husband Dale pulled up to the hospital the gal that came to collect the donations wasn't prepared for the amount that had been donated. The items that cannot be used at the VA Hospital, Henry explained that it is taken to an outreach center in Cedar Rapids which cares for Veterans. She shared that often if Veterans are homeless or struggling they can't go out and buy things like shampoos.
Sandy Hamilton, school advisor said that the kids just wanted to find some way to reach out to the veterans. Henry said, "Well they did! They did a wonderful job! The Vinton-Shellsburg students support our veterans so much."
High School Senate members Abby Davis, Samantha Walton, Ashley Meyer, and Kate Hyland were available to receive the award.
Also present from the local VFW were Dale and Jeanette Henry, Connie McKinley, and Mrs. Steffen who works closely with the local veterans and worked with the School Senate on this project.
To listen to the letter received by the students click here.
Congratulations!
advertisement
advertisement
advertisement
advertisement
advertisement
advertisement
advertisement
advertisement