advertisement
advertisement
advertisement
Photos (2) View All

Giant Vortex, measuring 50' long is painted in Dysart at the corners of Wilson and Main St.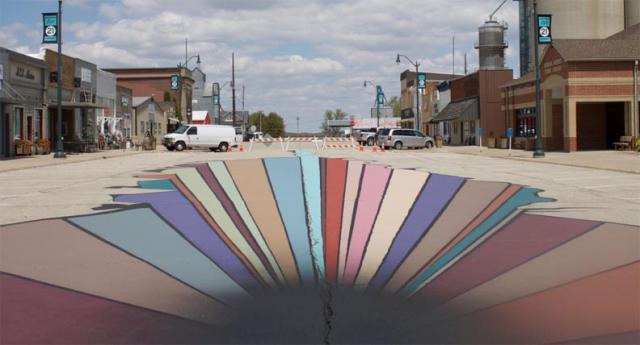 The Vision Dysart Committee is pleased to announce the completion of The Great Dysart Gorge and the Dysart Vortex. The Gorge, a 250' anamorphic illusion that intentionally distorts perspective to give the appearance of dimension is painted on Main Street. The giant Vortex, measuring 50' long is painted in the intersection of Wilson and Main Streets. The optical illusion is most dynamic when viewed facing east.
The Vortex was funded, in part through a generous grant from the Paint Iowa Beautiful program sponsored by Diamond Vogel Paints. The program provides free paint to a wide variety of public service projects throughout Iowa. This year Diamond Vogel has agreed to expand the paint allocation to include Iowa's 70 state parks. "We are pleased to provide additional paint to enhance Iowa's state parks," said Doug Vogel, Vice-President of Marketing, of the Iowa based company. "The 100th anniversary of our state park system will be celebrated in 2020 and the next year provides a great opportunity to spruce up the beauty of our parks." "Keep Iowa Beautiful's 16-year partnership with Diamond Vogel Paint has helped improve over 786 community projects in Iowa," said Gerry Schnepf, Keep Iowa Beautiful Executive Director. "Over 9,640 gallons of paint and hundreds of local volunteers are helping build stronger Iowa communities through beautification."

The community of Dysart has no art center or museum. "But," said artist Mary Snyder Behrens, "we have our streets, the park, bike trails and the sides of buildings. What a great way to bring the experience of art to our community in such an accessible way." The Great Dysart Gorge was the first in a series of planned public artworks leading up to Dysart's sesquicentennial in 2023. In addition to the three mentioned above, illusions are painted on the C. R. Roberts Memorial Trail, outside the Little Knights Learning Center and, in the City Park, a magic anamorphic cylinder of a Koi Pond.

Follow dysartillusions.blogspot.com for updates on the progress of the artworks.

Vision Dysart is a steering committee sponsored by the Dysart Development Corporation. The committee was formed in response to an Iowa Economic Development community assessment conducted on 9 November 2017. The report indicated strengths and weaknesses within the community and suggested strategies for improvement. Vision Dysart consists of individuals from the business community, government and the community at large, working together to find inventive new ways to help contribute to the betterment of Dysart now and into the future.
advertisement
advertisement
advertisement
advertisement
advertisement