Business :: Cooling Teens Win High Point at National Dance Competition

·

July 7th, 2019
Photos (2) View All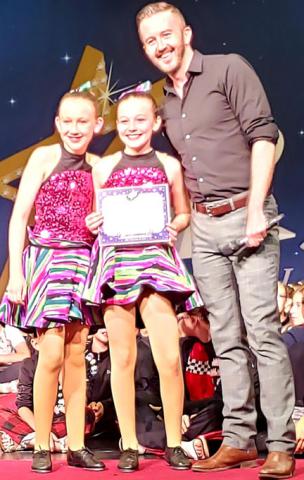 The Cooling Dancers of Vinton were named the highest scoring teen group, all styles combined, in their
age division for their large group routine "Who Says." The routine was also given a special judge's
award for their precision and stage presence at the event. The dancers in "Who Says," ages 12 to 14,
competed at the Midwest Starz National Finals at the Kalarhari Convention Center in the Wisconsin
Dells. They had qualified from winning the regional competition in March. Additionally, the Cooling preteen group, "Tap Fantastic," was named 1st Runner Up High Point after being named to the top ten in
pre-teen, all dance styles combined. The routine also received one of three judge's awards "Music to
My Ears" for their clean sounds and musicality. Two other Cooling groups, "Newsies" Teen Production,
and "You Got 2 Love" Senior Line were named to the top five as runner ups in line and production
categories.

With over 3000 routines and 88 studios in attendance, the four-day event was very intense. The
dancers performed exceptionally well amidst large categories of routines. Judges included Sean Quinn
of the Original Broadway Cast of "Cinderella," who awarded the Cooling pre-teens with the "Music to
My Ears" judge's choice award, and Ian Saunders of the "Bullets Over Broadway" National Tour. Other
judges included Jayson Douglas of "Steps on Broadway" and Emily Fagan of San Diego "Star Bound"
National Tour, who gave a special added judge's award to the Cooling teen group.
The Cooling Dancers who competed at the national event included: (Mini/Junior) Olivia Boisen,
Madeline Blais, Addyson Chvala, Ryleigh Clemens, Alana Fleming, Katelyn Fleming, Brianna Gahring, Lily
Griffith, Ellie Groom, Summer Hotchkiss, Addyson Ingham, Haylee Karr, Zoey Kriner, Cate Langridge, Julia
Paine, Olivia Port, Olivia Primrose, Brynnlee Seeck, Sophia Seeck, Maryn Purdy, Cadee Redlinger, Ashtyn
Shonka, Ryin Shonka, Birgitta Sloop, Jenna Small, Mallery Staggs, Cari Travis, Mia Von Srprecken, Rayna
Wacha, Brady Whelan, Gracie Whelan, (Teen/Senior) Kelcie Appleby, Zena Aragon, Emma Arnold,
Matthew Bookmeier, Riley Davis, Kayla Dengler, Hannah Houtakker, Ashlyn Hotchkiss, Rachel Kline,
Isabell Kreel, Emma Kyes, Kailey Lazenby, Kailey Netolicky, Lauren Paine, Jenna Pattee, Kara Perry,
Skyler Shaw, Jayden Steffen, Charleston Steinke, Nicki Thomas, Emma Upah, Angela Ahrenstein, Claire
Booth, Charley Cooling, Kelli Cox, Newelle Dalton, Briana Happel, Cassie Hazen, Brooke Johnston, Leah
Kaufman, Bree Lundvall, Sammie Lundvall, Shelby McDonald, Hannah McGowan, Ava Mills, Elsa Page,
Lauren Price, Brynn Stabb, Madalyn Staggs, Baylee Wheeler, Morgan White

advertisement
advertisement
advertisement
advertisement
advertisement
advertisement
advertisement